…absolutely nothing!
Having been back in Norway for nearly three weeks already,  I can hardly sit still in anticipation of finally being able to get up in the mornings and go to work at a location actually intended for getting work done, using a computer that's not more than a decade old and doesn't try to oppose me at every click of the mouse, at the supermegaawesome office of the top-secret (shh!) and not-yet-officially-launched indie game development studio I'm co-founding – Way North Studios!
*gets up and dances a jig*
What's the hold-up? Partly, waiting for the new computers, paperclips and/or dance-dance-revolution mats? we ordered to arrive (any day now – woho!). Partly, bureaucracy (meh!) we need to trudge through in order to finalize the registration of our dev studio as a proper company in Norway, as well as to get all our Internets, insurances, hidden cameras, circus-operating permits, alarms and lethal guard hamsters sorted out, amongst other crucial and critical things.
Meanwhile, I pour over design documents, make plans for art and asset pipelines, try to choose what version control scheme to go with (currently leaning towards Mercurial), figure out how to deal with data-storage and the safekeeping of said data and – whenever my current computer is being agreeable – explore and uncover all the secrets and forbidden techniques hidden away in Unity.
In other news, I managed to find my Collector's Edition coin (a Septim) from Oblivion in an unopened, sealed plastic bag – just lying at the back of a shelf all innocent like. Naturally, I promptly opened it and declared it forever my lucky game development coin. For the curious – it's made of solid fake gold, is about 36 mm in diameter and 2 mm thick, and this is what it looks like: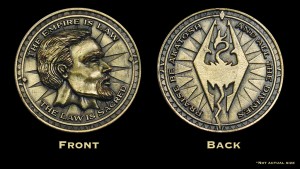 We'll get along just fine, my preciousssss Ssseptim. You'd better bring me luck, or I'll melt you down! (Just kidding, I wouldn't do that (I totally would, though))